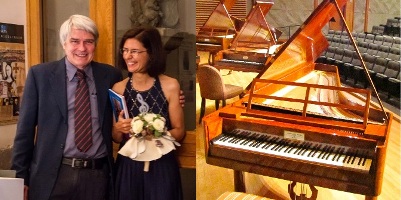 His Famous Customers: Beethoven, Schubert, Clara and Robert Schumann, the Mendelssohn family, Chopin and Liszt
Dr. Edward Swenson
Accompanied by demonstrations on his Graf Concert Fortepiano, Opus 1389, Vienna, Circa 1826
Saturday, August 22, 2015 (Date to be confirmed)
2:30pm
Doctorow Center for the Arts
Piano Performance Museum
7971 Main Street, Village of Hunter
Piano restorer and music history professor Edward Swenson graduated from the Oberlin Conservatory of Music with a degree in performance and a certificate in piano technology. He received a Master's degree in musicology from the Akademie Mozarteum in Salzburg and he completed his Ph.D. with a thesis on the Italian composer Antonio Salieri. In 1970, Swenson joined the music history faculty of the Ithaca College School of Music. Fortepianos and pianos restored in Swenson's workshop are located at the Smithsonian Institution, the University of the Arts in Tokyo, and in numerous other private and public collections.
The Graf fortepiano which will accompany Ed Swenson's lecture, was made circa 1826. The builder, Conrad Graf was appointed as Royal Piano and Keyboard Maker to the Imperial court in Vienna. His firm eventually produced over 3,000 instruments during his lifetime. In 1840 he retired and sold the firm to Carl Stein, who was the grandson of the famous piano builder Johann Andreas Stein. The surviving Graf instruments are about two centuries old and they represent the culmination of Viennese classical piano building.
This lecture/demonstration is part of the Catskill Mountain Foundation's Piano Performance Museum Concerts & Conversations series. It is made possible with the generous support of the Jarvis and Constance Doctorow Family Foundation.