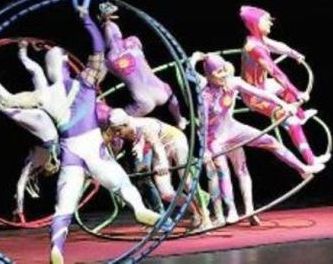 Sharing ancient practices with new audiences
Daring feats of balance,
Spine tingling contortionists
Towers of jugglers
Saturday, October 3, 2015
7:30 pm
Orpheum Film & Performing Arts Center
6050 Main Street, Village of Tannersville
Observe, marvel and reflect on the 29 Chinese acrobats playing with balance, precision, coordination, flexibility and agility. The acrobats highlight inconceivable human body abilities that one might have never imagined possible.
The Golden Dragon acrobats will be a showcase for the visual senses. This spectacular group will present a fast-paced, technologically innovative performance at the Orpheum Theater. The acrobats bring forward award-winning acrobatics, traditional dance and spectacular costumes. The large athletic cast and awe-inspiring, glowing set designs allow the acrobats to present a show of unparalleled precision and breathtaking skill combined with colorful, heart-stopping beauty. The grace of the Chinese acrobats' centuries' old traditions promises to be a cultural exchange while filling the audience with suspense and adventure.
Recognized throughout the U.S. and abroad as the premiere Chinese acrobatic touring company of today, Golden Dragon Acrobats represent the best of a time honored tradition that began more than 25 centuries ago.
This performance is part of the Catskill Mountain Foundation presenting season.