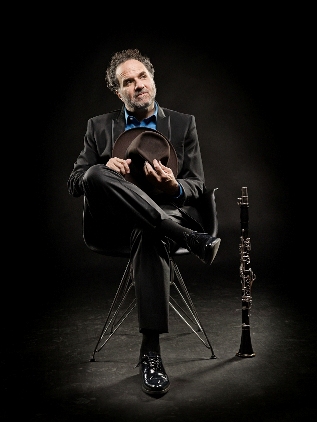 The Human Face of Klezmer 
David Krakauer, Clarinet
Manhattan in the Mountains Ensemble
Saturday, July 25, 2015
8:00 pm
Doctorow Center for the Arts
7971 Main Street, Village of Hunter
"David Krakauer is such an overwhelmingly expressive clarinetist who moves so seamlessly between different genres that for a minute you'd almost think that there's no appreciable difference between jazz, klezmer and formal classical music." – The Wall Street Journal, September 26, 2013
Only a select few artists have the ability to convey their message to the back row, to galvanize an audience with a visceral power that connects on a universal level. David Krakauer is such an artist. Widely considered one of the greatest clarinetists on the planet, he has been praised internationally as a key innovator in modern klezmer as well as a major voice in classical music.
David Krakaurer will be joined by pianists Joanne Polk and Tatiana Goncharova, violinist Diane Pascal, cellist Marion Feldman and others.
The program for the evening will include Brahms Clarinet Trio, a movement from Osvaldo Golijov's "The Dreams and Prayers of Isaac the Blind" for string quartet and klezmer clarinet, a movement of the Starer Clarinet Concerto, and other klezmer works.
This performance is part of the Piano Performance Museum Concerts & Conversations series of the Catskill Mountain Foundation's presenting season and is made possible with the generous support of the Jarvis and Constance Doctorow Family Foundation.