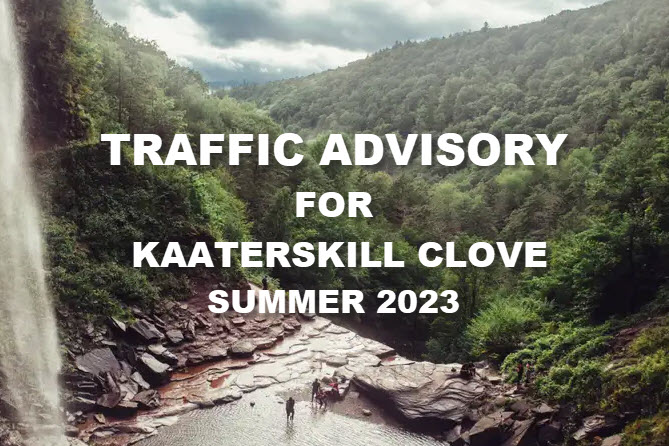 Attention all visitors and travelers planning to use Route 23A through the Kaaterskill Clove in Hunter, New York.
The Town of Hunter, in collaboration with NYSDOT (New York State Department of Transportation), NYS DEC (New York State Department of Environmental Conservation), and our law enforcement partners, have implemented a seasonal parking prohibition along State Route 23A between Palenville and Haines Falls, also known as Kaaterskill Clove. This decision was made in response to numerous previous incidents of severe traffic congestion, illegal parking and limited EMS access. In order to prioritize the health and safety of our residents and visitors, parking regulations were revised and will now be strictly enforced throughout the upcoming summer season.
Beginning this weekend, June 17-18, and continuing throughout the warmer months, parking will be prohibited at the Ice Climber's lot and all smaller lots along State Route 23A in the Kaaterskill Clove. Parking enforcement will take place, and illegally parked vehicles will be ticketed and towed.
To access major scenic attractions such as Kaaterskill Falls and other areas within the Clove, the Kaaterskill Trolley Co. will provide transportation services. The trolley will have multiple stops in Tannersville, Haines Falls, Palenville, and throughout the Clove bringing visitors safely to their destinations. Visitors are also encouraged to park in the Village of Tannersville where there is abundant parking, and ride the trolley to their destination either in the Clove or the trails near North South Lake Campground.
Alternatively, visitors can access Kaaterskill Falls via North/South Lake Campground, the KRT trail via the Mountain Top Historical Society, and other access points near North Lake Road. These trail access points feature parking and offer an alternative route to reach Kaaterskill Falls and the many scenic trails in the area.
Please take note of these restrictions and plan your visit accordingly. Our primary goal is to ensure a safer and more enjoyable experience for every visitor while preserving the natural beauty of our cherished area. As we welcome you to our town and invite you to discover all it has to offer, it is vital that we prioritize safety, responsible access, and the conservation of our delicate natural resources.
Thank you for your understanding.
Sean Mahoney
Town of Hunter Supervisor
Additional Links: