March 20th
The Town of Hunter Town Hall will be closed as on Noon today, March 20, 2020 until further notice. 
Certain departments will be working remotely to check their voicemails.
Department extension are:
(518)589-6151
EXTENSIONS:
SUPERVISORS SECRETARY                                 300
COURT/TICKETS                                                  306
BUILDING INSPECTOR/CODE OFFICER           307
PLANNING BOARD                                             308
ASSESSOR                                                           309
HIGHWAY DEPT                                                 310
TOWN CLERK/TAX COLLECTOR                       311
SUPERVISOR                                                       312
March 13th
To the Residents of the Town of Hunter,
Today on March 13th, the President declared a national state of emergency to deal with the COVID-19 crisis.
Update: The Supervisor of the Town of Hunter did declare a state of emergency yesterday to position the Town of Hunter to be able to immediately respond to events as they arise, in consultation with our county, state and Federal partners.
As the world better understands and reacts to the impacts of COVID-19, the health, safety and well-being of our Town residents remains our top priority.
To limit potential exposure within our Town, our Town Board have taken important steps to address COVID-19, and we'll continue to be proactive in our response to this dynamic and fluid situation.
Below are some of the actions we've taken:
• Cancelled all Public Town meetings until the situation stabilizes to limit exposure.
• Designed a sign available to our businesses to post on their front door asking those who show symptoms to seek medical care. These signs are available at Town Hall and both Village Halls.
• Worked closely with our Town Health Officer to develop an appropriate course of action for how to deal with this crisis locally.
• Held emergency meetings and calls with our local, county and state government contacts to determine our best course of action as this situation progresses.
• Set protocol and plan of action for our emergency services (ambulance and police)
• Met with representatives of our school and local businesses to develop an appropriate response relating to mass gatherings.
We encourage all our full and part time residents to stay home and self-quarantine If they show any symptoms. Additionally, it is recommended that even if you do not show symptoms you still engage in "social distancing".
This is a new term that we all must be aware of which means that we should avoid large groups and stay away from others as much as possible to reduce the speed in which this virus spreads.
If you are going to visit and support one of our local restaurants, seat yourself further away from others. Many of restaurants have already re-arranged seating to make sure that an appropriate distance between tables exists.
We will update you all as developments arise, but our Board wanted to let you know that we are being as proactive as we can.
During this trying time, we hope you and your families stay safe and healthy. Please be assured our Town Board will do everything we can protect and support the well-being of everyone here in the Town of Hunter.

-Town of Hunter Town Board
March 12th
Until further notice any and all public meetings of the Town of Hunter now are postponed.

Additionally the Town of Hunter Health Board in conjunction with our Town Health Officer, HTC School District, the Villages of Hunter and Tannersville have collaborated on a sign that we are making available to all businesses and public meeting places in our Town.

These printed signs are recommended to be placed on the front door to the establishment. These are available to be picked up at Town Hall and both Hunter and Tannersville Village Halls.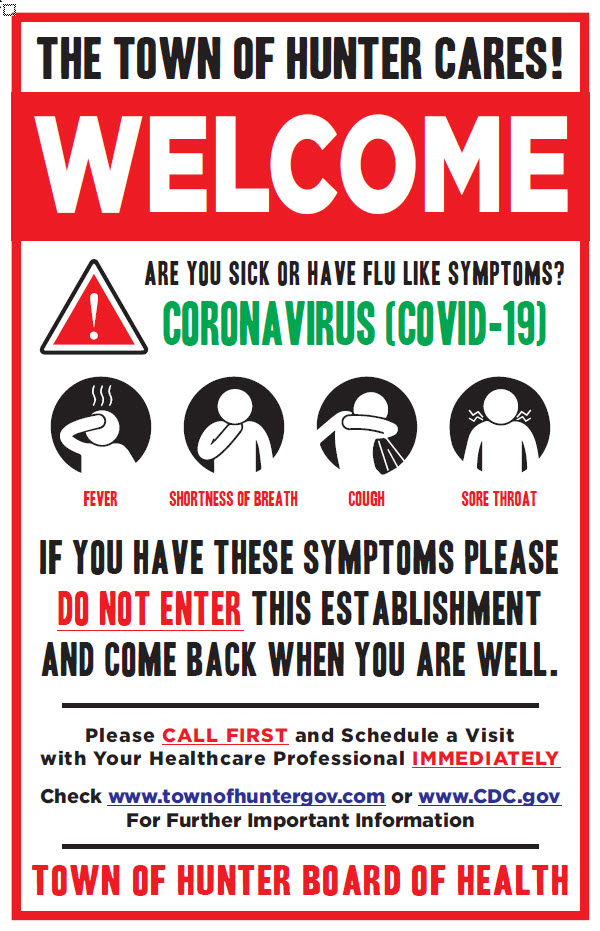 March 11th
If you or your family member is experiencing flu-like symptoms please call your local health professional in order to schedule an appointment to seek care.
There is currently no vaccine to prevent Coronavirus disease 2019 (COVID-19). The best way to prevent illness is to avoid being exposed to this virus. However, as a reminder, CDC always recommends everyday preventive actions to help prevent the spread of respiratory diseases, including:
Avoid close contact with people who are sick.
Avoid touching your eyes, nose, and mouth.
Stay home when you are sick.
Cover your cough or sneeze with a tissue, then throw the tissue in the trash.
Clean and disinfect frequently touched objects and surfaces using a regular household cleaning spray or wipe.
Follow CDC's recommendations for using a face mask.

CDC does not recommend that people who are well wear a face mask to protect themselves from respiratory diseases, including COVID-19.
Face masks should be used by people who show symptoms of COVID-19 to help prevent the spread of the disease to others. The use of face masks is also crucial for health workers and people who are taking care of someone in close settings (at home or in a health care facility).

Wash your hands often with soap and water for at least 20 seconds, especially after going to the bathroom; before eating; and after blowing your nose, coughing, or sneezing.

If soap and water are not readily available, use an alcohol-based hand sanitizer with at least 60% alcohol. Always wash hands with soap and water if hands are visibly dirty.
For information about handwashing, see CDC's Handwashing website
For information specific to healthcare, see CDC's Hand Hygiene in Healthcare Settings
These are everyday habits that can help prevent the spread of several viruses.
You can find more information on Coronavirus from the NYSDOH and the CDC.