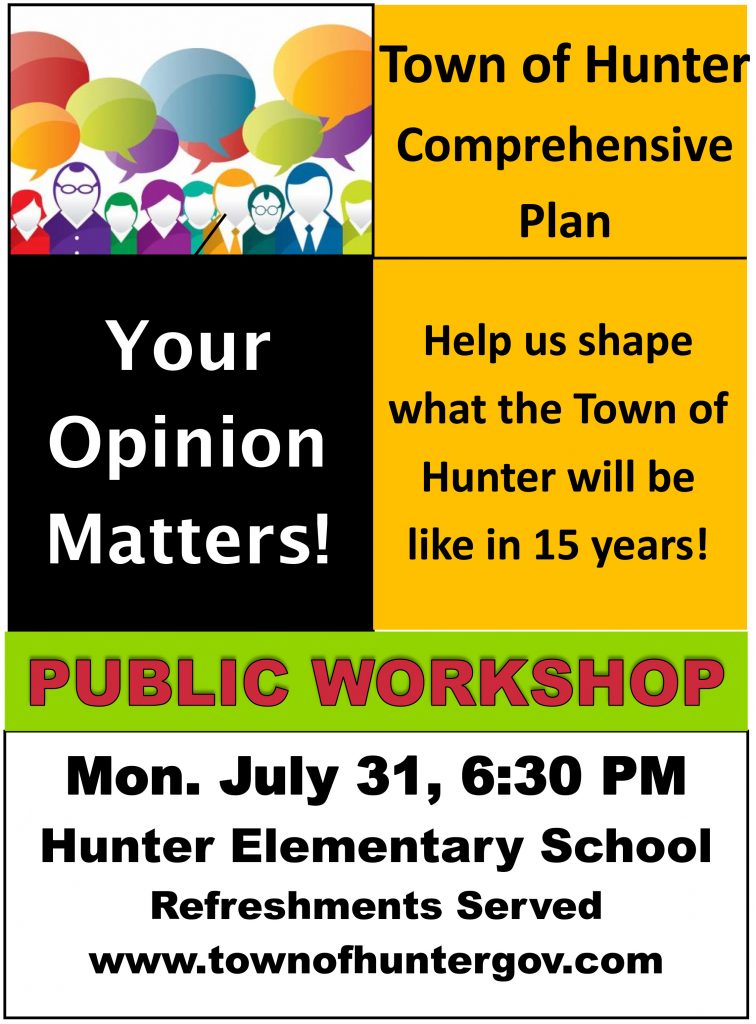 Residents Encouraged to Provide Feedback on Future of Town for New
Comprehensive Plan

Hunter, NY – The public is invited to attend a Community Planning Workshop to provide input on the
future direction for the Town of Hunter. The meeting is being held to hear from the community as part
of the Town's Comprehensive Plan update that is currently underway. The workshop will be held at 7:00
p.m. July 31, at the Elementary School Cafeteria, Hunter.
"This is a great opportunity for residents to tell us what our Town should be in the future, what our
strengths and current issues are, and what opportunities we should take advantage of in the future,"
said Town Supervisor Daryl Legg.
Town Supervisor Legg added, "Public input is critical to develop our new comprehensive plan and we
want it to reflect what our community really wants to be in the future. I encourage everyone to offer
their opinions as part of this important process."
The public meeting will be a workshop format, where participants will work in small groups in a friendly
and informal atmosphere to identify and prioritize the issues and opportunities in Hunter, and to
develop a written statement that sets the course for the Town's future. Everyone's input is important
and will contribute towards development of the plan.
The Town of Hunter began the planning process to update its comprehensive plan in January. The
current comprehensive plan was last done in the 2000. The Town has formed a volunteer
comprehensive plan committee to steer the process and is working with planning consultants from
Community Planning & Environmental Associates. The major tasks to develop the plan will be to review
current conditions in the Town; perform community outreach; establish a direction and a set of goals for
the Town, and develop recommendations that will guide future planning, development, infrastructure,
capital improvements, land use, and other programming in Hunter.
For questions about the comprehensive plan process, contact Sarah Killhoury at the Town office at 518‐
589‐6151 extension 308. Information about the comprehensive plan can be found on the website at
www.townofhuntergov.com. Please plan on attending the planning workshop on July 31 at 7 PM at the
Elementary School in Hunter.